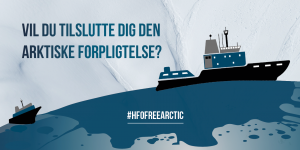 Arktisk Forpligtelse
Underskrivere
Tilmelding
DEN ARKTISKE FORPLIGTELSE
Den 25. januar 2017 blev "Den Arktiske Forpligtelse" lanceret på Artic Frontiers-konferencen i Tromsø i Norge. "Den Arktiske Forpligtelse" er et initiativ fra Clean Arctic Alliance og krydstogtskibsoperatøren Hurtigruten, der opfordrer virksomheder og organisationer til at træde frem og tilskynde til en udfasning af forurenende fuelolie (HFO) i arktisk skibsfart.
Efter lanceringen af "Den Arktiske Forpligtelse"er vores mål nu at tilskynde en bred vifte af interessenter til at tilmelde sig "Den Arktiske Forpligtelse og dermed skabe en stærk stemning til støtte for en IMO-udfasning af fuelolie (HFO) i arktisk skibsfart i 2020 og at opfordre rederier, der opererer i Arktis, til at skifte fra brugen af HFO til renere brændstoffer.
Arktis er et af de få områder i verden, der stort set har været uberørt af massiv industriel udvikling. Dette overvejende uberørte miljø er ikke desto mindre vært for millioner af mennesker med rige, ofte gamle kulturer, samt en stor mangfoldighed af økosystemer og havliv. Arktis er også af stor global betydning grundet sin afgørende rolle i reguleringen af verdens vejrmønstre og havstrømme.
Men klimaændringer udgør en betydelig udfordring for dette sårbare miljø på grund af den hurtige afsmeltning af arktisk havis. Disse ændringer fører mod udsigten til en betydelig vækst i arktisk havtrafik, efterhånden som nye havruter gradvist bliver tilgængelige.
Heavy Fuel Oil (HFO) er volumenmæssigt det mest anvendte brændstof til skibe i Arktis, og Arktisk Råd har kategoriseret dets anvendelse som en af de mest alvorlige trusler mod det arktiske miljø. HFO er et ekstremt tyktflydende og giftigt brændstof, og muligheden for udslip af HFO udgør en stor risiko for arktiske marine økosystemer og de samfund, der er afhængige af disse. Forbrændingen af HFO fører til høje niveauer af luftforurening, herunder sod, der er skadeligt for menneskers sundhed og fungerer som en stærk regional accelerator af klimaændringer.
I anerkendelse af de alvorlige konsekvenser og tilknyttede risici ved brug af HFO i polarområderne har Den Internationale Søfartsorganisation (IMO) allerede ændret MARPOL-konventionen  og forbyder dermed anvendelse og transport af svære olier af skibe i Antarktis.
Det er bydende nødvendigt, at vi anerkender de alvorlige risici for det arktiske miljø mv. og kræver afværgeforanstaltninger, herunder en udfasning af brugen af HFO til arktisk skibsfart.
UNDERTEGNEDE,
OPFORDRER det internationale samfund til at anerkende det arktiske områdes betydning og sårbarhed og at love at beskytte dette unikke miljø;
ANERKENDER det unikke i det arktiske område, mangfoldigheden i økosystemerne og rigdommen i befolkningens kultur;
ERKENDER, at udvikling skal foregå i et tempo og i en skala, der kan understøttes af de skrøbelige og skiftende arktiske økosystemer;
FORSTÅR Arktis' vigtige rolle i reguleringen af det globale klima, især områdets rolle i bestræbelserne på at opretholde stabile globale temperaturer;
BEMÆRKER MED BEKYMRING den hurtige afsmeltning af den arktiske havis og den alarmerende forventede stigning i den globale vandstand;
ER BEVIDSTE OM den særlige sårbarhed i det arktiske miljø, dets befolkninger, dyreliv og økosystemer over for virkningerne af klimaændringer, især afsmeltningen af polaris;
NOTERER OS den hurtige forventede vækst i skibstrafikken i det arktiske område, og at de fleste af de brændstoffer, der transporteres af skibe i Arktis, er HFO;
ANERKENDER de skadelige virkninger af forbrænding af HFO på det arktiske miljø, som resulterer i særligt høje udledninger af partikler, herunder sod, hvilket accelererer opvarmningen af Arktis og isafsmeltningen;
ANERKENDER OGSÅ de skadelige virkninger af forbrænding af HFO på menneskers, dyrs og planters liv i Arktis på grund af de høje udledninger af svovl og kvælstofoxider, sulfater og andre skadelige former for forurening;
UNDERSTREGER de betydelige operationelle risici forbundet med arktisk skibsfart, og dermed en forhøjet risiko for miljømæssigt katastrofalt HFO-udslip;
ANERKENDER de potentielt alvorlige konsekvenser for arktiske marine økosystemer i tilfælde af udslip af HFO grundet oliens høje viskositet, der gør det næsten umuligt at rydde op i de kolde, tilisede og ofte utilgængelige farvande i Arktis med potentielt katastrofale følger for Arktis' marine dyreliv, økosystemer og samfund;
MINDER OM, at Polarkoden tilskynder skibe til ikke at bruge eller transportere HFO i Arktis
ER ENIGE OM, at et skift fra brugen af HFO til renere brændselstyper i skibe og anvendelse af passende teknologier til reduktion af udledning i væsentlig grad ville fremme målet om beskyttelse af det arktiske havmiljø;
OPFORDRER TIL en udfasning af brugen af HFO i skibe i tide og OPFORDRER INDTRÆNGENDE medlemsstater og interessenter i Den Internationale Søfartsorganisation til at fremme dette mål.
Klik her for at downloade en pdf-fil med "Den Arktiske Forpligtelse"
Se underskrivelsen af "Den Arktiske Forpligtelse" af Hurtigrutens Daniel Skjeldam og Clean Arctic Alliances Sian Prior
Se hele eventen "Nej til HFO" og underskrivelsen af "Den Arktiske Forpligtelse" på Arctic Frontiers i Tromsø
Nuværende underskrivere:
Clean Arctic Alliance:

90 North Unit, Alaska Wilderness League, The Altai Project, Bellona, Clean Air Task Force, ECODES, Environmental Investigation Agency, European Climate Foundation, Friends of the Earth US, Global Choices, Greenpeace, Green Transition Denmark, Icelandic Nature Conservation Association, International Cryosphere Climate Initiative, Nature And Biodiversity Conservation Union, Ocean Conservancy, Pacific Environment, Seas At Risk, Stand.earth, Surfrider Foundation Europe, Transport & Environment, WWF Arctic Programme, and WWF Finland.
Hurtigruten, international ekspeditionskrydstogtoperatør
Lewis Pugh, UNEP-protektor for verdenshavene og polarsvømmer
Svein Tveitdal, tidligere UNEP-direktør, adm.dir. Klima2020
BICEPS Network (Boosting Initiatives for Collaborative Emission-reduction with the Power of Shippers)
Maritime LNG Platform (Germany)
Kawerak, Incorporated (USA, Alaska)
Nederlandse Vereniging van Kapiteins ter Koopvaardij (NVKK) – (Dutch Association of Captains for Merchant Shipping)
Merja Kyllönen, MEP and former Transport Minister of Finland, GUE/NGL
Arctic Security Consultants, Canada
Claudio Boezio, Utopia Navalis, designer of clean powered vessels
Magnus Johannesson, Former Director, Arctic Council Secretariat and former Maritime Director, Iceland
Callum Roberts, Professor of Marine Conservation
Davor Škrlec, MEP,The Greens/EFA
Enkhuizer Zeevaartschool (Enkhuizen Nautical College)
Ruud Koornstra, Chairman of Smart Climate Opportunities, Chairman of the Dutch Association of Green Entrepreneurs, and Energy Commissioner of The Netherlands
Tiemo Wölken, MEP – Group of the Progressive Alliance of Socialists and Democrats in the European Parliament
(Mediterranean Association for Green Economy Transition)
Eco-union (Mediterranean Association for Green Economy Transition)
Ecologistas en Acción (Spanish environmental grassroot NGO)
Javier Benayas, Professor, Ecology Department, Universidad Autonoma de Madrid & Antarctic Researcher
Carol Devine, Explorer, writer, speaker, humanitarian
Joaquín Araujo, naturalist and writer
Rosa Martinez, member of parliament for Bizkaia region – Unidos Podemos
Fernando Moleres, current affairs & human rights photographer, Melting Landscape Artico
Paco Gómez, photographer and writer. Co-author of "Volverás a la Antártida"
Jorge Riechmann, Associate Professor (Ethics and political philosophy), Universidad Autónoma de Madrid
Carolina Punset, MEP, Group of the Alliance of Liberals and Democrats for Europe
Heinz Otto, Hamburg board member of @BWEev, German WindEnergy Association 
Avataq – Greenland's association for nature and environment
Zaria Forman, artist
Xavier Pastor, Oceanographer. Former Director of Greenpeace Spain, Oceana Europe, Balearic Ornithological Group Mallorca and Marviva
Valentín Carrera, Journalist & writer. Chronicler of the first and 

30th

Spanish scientific expeditions to the Antarctic
George Monbiot, Journalist, environmentalist, writer and Columnist for the Guardian
Pen Hadow, Explorer
The University of the South Pacific
Rosa M. Tristán, Environmental journalist and author
Yann Arthus-Bertrand, Photographer, journalist, environmentalist, film director
Camille Seaman, Polar regions photographer
Philomene Verlaan, Oceanographer and Law of the Sea Specialist
ACOPS – Advisory Committee on Protection of the Sea
bound4blue – wingsail technology to reduce fuel consumption and emissions of maritime transport.
Francesc Bailón, anthropologist- specialist in inuit culture
Dr Kathrin Stephen, Scientific Project Leader, Institute for Advanced Sustainability Studies (IASS), Potsdam
Prof. Dr Mark Lawrence, Scientific Director, Institute for Advanced Sustainability Studies (IASS), Potsdam
Dr. Françoise Breton Renard, Director,  Arctic Research Centre (CER-ARCTIC), Departament de Geografia, Universitat Autònoma de Barcelona
Margaux Isaksen, 3 time U.S. Olympian and environmental advocate
Arjen van der Veen, Founder & Director Fairtransport Rotterdam
Nancy Lord, Former Alaska Writer Laureate, author of Early Warming: Crisis and Response in the Climate-changed North and pH: A Novel
Ben Porter – Photographer, lifelong naturalist with a passion for birds, wildlife photography and the outdoors
Anne Lydiat, Artist & researcher and voyager to the Arctic, on the footsteps of Louise Arner Boyd
Sail Against Plastic,  a collaborative expedition of 24 scientists, sailors, artists, photographers and film makers revealing the hidden threats facing the Arctic
Stiftung 2° – Deutsche Unternehmer für Klimaschutz, Foundation 2° – German CEOs for climate protection
Deutsche Bahn AG, German national rail network
Otto Group, a worldwide operating retail trust and contractor with business activity in over 20 countries
Prof. Han Lindeboom – Emeritus professor in Marine Ecology at Wageningen University & Research and Senior Advisor at Royal NIOZ and Wageningen Marine Research, NL
Charles Moore – Oceanographer, founder of Algalita Marine Research and Education, Skipper of Research Vessel Alguita
Kiliii Yuyan, indigenous Hézhè & Chinese-American award-winning photographer, filmmaker, journalist and Arctic specialist
Josep Lluis Pelegrí, Research Professor and Director, Institute of Marine Science, Barcelona
Kai Müller, KMphoto-Expeditions
AEMALIRE, Aerial Marine Litter Research
Mme. Agnes M. Sigurðardóttir,the bishop of the Evangelical Lutheran Church of Iceland (ELCI)
Magdalena Adlberger – Musician
Albert Barniol, Spanish TV meteorologist
The Gallifrey Foundation – working collaboratively to advance marine protection and social enterprise
ACOMET – Asociación de Comunicadores de Meteorología
Joel Clement – Senior Fellow, Harvard Belfer Center Arctic Initiative
Adam Hammond, Expedition Leader and Shipping Financier
Nordic Ocean Watch (NOW) – an environmental collective dedicated to taking care of the ocean
Ed O'Loughlin, writer and journalist, author of "Minds of Winter"
Greenoxx Global Environmental Program
Prof. Dr. William M Megill, Hochschule Rhein-Waal, Rhine-Waal University of Applied Sciences
D. Michael Adams, CEO & Founder, Ocean Assets Institute
Hellenic Ornithological Society / Ελληνική Ορνιθολογική Εταιρεία
ZERO – Associação Sistema Terrestre Sustentável / Association for the Sustainability of the Earth System
La Fura dels Baus – theatrical company, Barcelona
Carlus Padrissa – Artistic Director
Nova Ruth – life artist, musician and activist
Grey Filastine – composer and video artist
PONANT – French cruise line and world leader in luxury expeditions
Piel de Atún – Innovation platform for sustainability
Antxon Olabe, environmental economist, author and adviser to the Spanish ecological transition Minister
The Climate Reality Project – Europe
Peggy Liu, Chairperson, JUCCCE – Greening China Together
Jorne Langelaan – Founder & Captain – EcoClipper – a professional shipping company that offers emission-free transport and travel
Catherine Rowett, MEP, Group of the Greens/European Free Alliance
Brim Explorer – energy efficient and silent hybrid-electric ship, built specifically for Arctic ocean excursions
Carlos Bravo Villa – environmental consultant – climate and sustainable transport
Juan Ignacio López Moreno – Geographer and Scientific Researcher – Instituto Pirenaico de Ecología-CSIC
Mar Gómez, Ph.D. Physics – Head of Meteorology – Eltiempo.es
Brita Knutsen Dahl – founder and CEO – Basecamp Explorer
Manu Sayani-Mulji – Faculty of Social Sciences, McMaster University, Ontario, Canada
Luc Hardy – PAX ARCTICA – Exploration & Environmental Advocacy
Hudson Shipping Lines – Clean & Green
Michael O. Snyder – photographer, filmmaker, and environmental scientist
Carmen Gros
Fondation Prince Albert II de Monaco / Prince Albert II of Monaco Foundation
Cory Trépanier – Canadian painter, filmmaker, explorer (Into the Arctic project)

Jim McNeill – Explorer & Founder of

Ice Warrior
Vi inviterer din organisation til også at blive en del af denne historiske forpligtelse, der sigter mod at beskytte de arktiske samfund og økosystemer mod de risici, som brugen af fuelolie som skibsbrændstof udgør. Kontakt [email protected] for at underskrive "Den Arktiske Forpligtelse".