This is How You Make an Arctic Commitment
Last week, members of the Clean Arctic Alliance team travelled to the annual Arctic Frontiers conference, in the northern Norwegian city of Tromsø. We were there to launch the Arctic Commitment, in partnership with Arctic expedition cruise operator Hurtigruten.
The Arctic Commitment is a challenge to businesses and other organisations, calling on them to not only join us, but help create a groundswell of support for an International Maritime Organization (IMO) phase-out of the use of heavy fuel oil (HFO) from Arctic shipping by 2020.
Heavy fuel oil is a viscous fossil fuel used to power ships and deliver goods all over the world. As the dirtiest and most polluting of fuels, HFO is problematic wherever it is used, but if it is spilled in colder regions, such as Arctic waters, it breaks down slowly risking devastation to local livelihoods and ecosystems.
The burning of HFO as ship fuel also produces harmful and significantly high emissions of air pollutants, including sulphur oxide, nitrogen oxide, particulate matter, and black carbon (BC). When emissions from HFO are deposited on Arctic snow or ice, the climate warming effect from the black carbon is at least three times more than when emitted over open ocean – leading to even more accelerated melt.
But back to Tromsø, 350km north of the Arctic Circle.  As we prepared our Arctic Frontiers side event, it was clear that we were competing for attention amongst the other events taking place across town this week. And then there was the weather – in a matter of a day, the idyllic subzero snow-covered streets had given way to soggy maritime deluges, and slippery pavements and strong winds. We needn't have worried; as the event drew closer, our event space began to fill up, and extraordinary signs of enthusiastic interest began to reach us.
Commitment
Hurtigruten's CEO, the dynamic Daniel Skjeldam, was ready to sign the commitment, along with Sian Prior of the Clean Arctic Alliance, which represents 15 organisations:
Alaska Wilderness League, Bellona, Clean Air Task Force, Danish Ecological Council, Environmental Investigation Agency, European Climate Foundation, Friends of the Earth US, Greenpeace, Icelandic Nature Conservation Association, Nature And Biodiversity Conservation Union, Ocean Conservancy, Pacific Environment, Seas At Risk, Transport & Environment and WWF.
But during the days and in even the final hours before the launch, other companies, organisations and individuals came forward to lend their voice, including UNEP Patron of the Oceans Lewis Pugh, explorer and maker of the documentary Seablind, Bernice Notenboom, Oceana, Eyak Preservation Council, Defenders of Wildlife, Audobon Alaska, International Cryosphere Climate Initiative and Native Land Conservancy. The movement was growing, and we hadn't even started.
As the event kicked off, we had Hallstein Havåg, Director of Policy and Research of Bellona discuss the current situation with Arctic shipping, where it's going and the risks this brings. Daniel Skjeldam, CEO, Norwegian expedition cruise line Hurtigruten talked about why his expedition cruise ship company doesn't use HFO – and the role that the shipping industry must play to end the use of HFO. Tor Christian Sletner of the Norwegian Shipowners Association told us about the challenges of moving his membership away from fossil fuels. Bernice Notenboom explored the environmental price of mass consumerism and Christoph Wolff, Managing Director of the European Climate Foundation talked about future solutions for the Arctic shipping industry.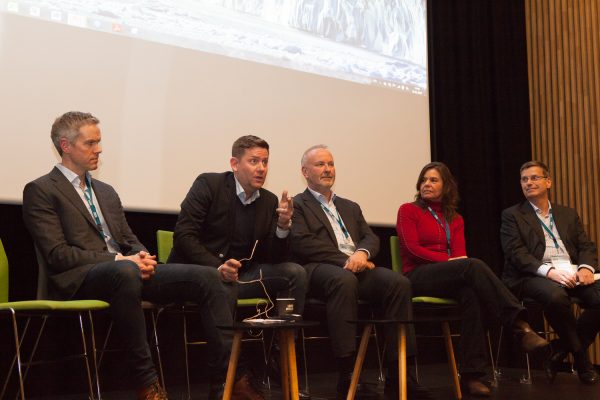 Then, Dr Sian Prior, lead advisor to the Clean Arctic Alliance and Daniel Skjeldam signed the Arctic Commitment – opened the floor for questions, and invited those present to put forward their organisation as a signatory. After some lively debates – which included the Finnish government re-affirming the commitment of Arctia to the initiative, Frigg Jørgensen, executive director of the Association of Arctic Expedition Cruise Operators (AECO) took the microphone, and there and then committed her organisation, to the Arctic Commitment.
With such a strong showing from the shipping industry, it was becoming clear that the Arctic Commitment was being recognised as real opportunity for those operating in the Arctic to show leadership, and to switch from HFO before a ban is in place.
Hurtigruten, which operates ships calling to 34 ports along Norway's rugged coastline all year round, also provide expedition travel to the Arctic and Antarctic, amongst other destinations – and none of its ships use HFO. Now Hurtigruten is campaigning to get HFO out of Arctic waters. "The use of heavy fuel oil (HFO) has already been banned in the Antarctic, now it's time to ban it in the Arctic as well", said Skjeldam, who believes "the shipping industry must be frontrunners in promoting regulations that will secure sustainable Arctic growth".
"An accident involving a mega ship and spill of heavy fuel oil in the Arctic would represent an environmental disaster", continued Skjeldam. If heavy fuel oil is spilled in cold Arctic waters, it will have larger consequences than anywhere else. The Arctic deserves sustainable growth and innovation, and the industry needs to move first."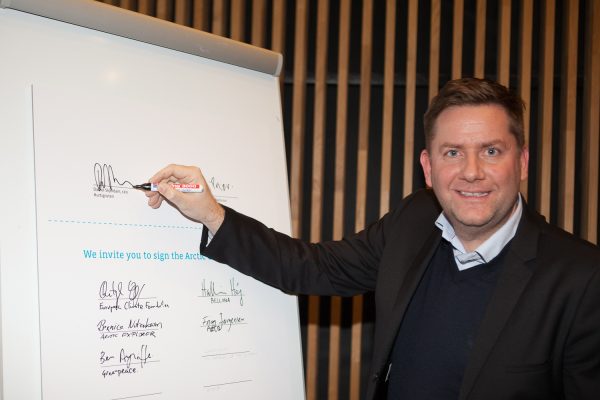 In July, there is a chance to lay some groundwork for an IMO ban on heavy fuel oil during MEPC, the Marine Environment Protection Committee meeting in London. Many voices are now calling for a ban – and those voices are becoming stronger all the time.  Read the Arctic Commitment and find how your organisation can become part of it.
Arctic Frontiers
Our Arctic Frontiers side-event,Say no to HFO – Support for a Sustainable Arctic Future, hosted by Clean Arctic Alliance members the European Climate Foundation and Bellona, and expedition cruise ship operator Hurtigruten, took place on January 25th at the Clarion Hotel The Edge in Tromsø.
Panelists included:
Watch the full video of Say no to HFO – Support for a Sustainable Arctic Future

More reading:
Irene Quaile: Some Arctic good news – not #fakenews!
Austin Ahmasuk: Arctic states and IMO member nations must back push to get heavy fuel oil out of Arctic shipping (Arctic Now)
Sian Prior:  Time to Commit to Cleaning up Arctic Shipping (Arctic Deeply)
Sian Prior: Who will step up to the Arctic commitment? (Virgin Unite)