Click to view full letter here
Open Letter: International NGOs Urge Global Shipping Chief to Arrest Arctic Meltdown
London, 25 March 2021:– International NGOs have sent an urgent letter to International Maritime Organization (IMO) Secretary-General, Mr Kitak Lim, calling on him to take action to address international shipping's climate impact, ahead of Friday's crucial decision on IMO measures on black carbon emissions in the Arctic.
"Now is the moment for decisive action by the IMO to ensure that black carbon emissions from shipping do not contribute any further to an Arctic meltdown. Now is NOT the moment for "goal-based" measures, guidelines or voluntary action", reads the letter, titled Last ditch battle at the IMO to save the summer sea ice!, and signed by Dr Sian Prior, Lead Advisor to the Clean Arctic Alliance, a coalition of 21 international non-governmental organisations.
The letter, copied to the UNFCCC, UNEP and EU, and IMO Member States, highlights how after 11 years of discussion on how to address the impacts of black carbon in the Arctic, the the global shipping agency is coming under growing expectation to provide a response to proportionate to the climate emergency ahead of this year's COP 26 climate summit.
Read the letter in full Last ditch battle at the IMO to save the summer sea ice!
See also: Letter to European Council President Michel, President of the European Commission von der Leyen and European Commission Executive Vice President Timmermans.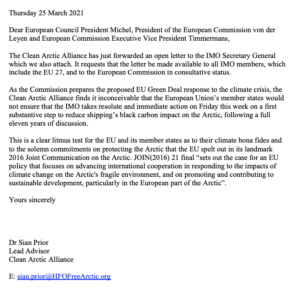 For more details on black carbon in the Arctic: NGOs Urge Shipping Body To Halve Arctic Black Carbon Impacts By Switching Fuels (22 March 2021)
https://www.hfofreearctic.org/en/2021/03/22/ngos-urge-shipping-body-to-halve-arctic-black-carbon-impacts-by-switching-fuels/
Contacts
Dave Walsh, Clean Arctic Alliance Communications Advisor, [email protected] +34 691 826 764
About the Clean Arctic Alliance
The following not-for-profit organisations form the Clean Arctic Alliance, which is committed to a ban on HFO as marine fuel in the Arctic:
90 North Unit, The Altai Project, Alaska Wilderness League, Bellona, Clean Air Task Force, Green Transition Denmark, Ecology and Development Foundation ECODES, Environmental Investigation Agency, European Climate Foundation, Friends of the Earth US, Greenpeace, Iceland Nature Conservation Association, International Cryosphere Climate Initiative, Nature And Biodiversity Conservation Union, Ocean Conservancy, Pacific Environment, Seas At Risk, Surfrider Foundation Europe, Stand.Earth, Transport & Environment and WWF.
More more information visit https://www.hfofreearctic.org/
Twitter: https://twitter.com/CleanArctic